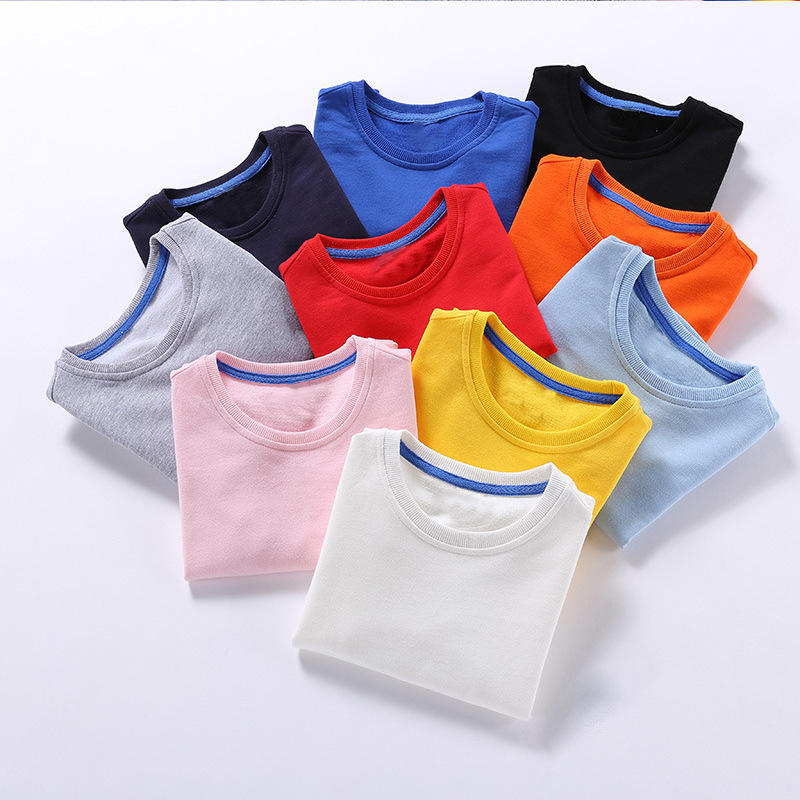 Can't find a suitable winter shirt for your kid? Looked everywhere but just can't seem to find anything good? Well, it happens all the time. Luckily, your tiring and endless search have finally come to an end! Because Gildan G540B is exactly what you have been looking for. It is the perfect solution for kid's clothing. Especially for those, who love to wear t-shirts. As it is comfortable, durable, and versatile. This long sleeve shirt is easy on the pocket and great for almost every occasion.
A basic t-shirt is an essential piece of clothing for almost everyone's wardrobe. But when it comes to kids, especially the naughty ones, it's a life savior. How? They are affordable, and great for everyday wear. It puts the parent at ease, as they don't have to worry about wear and tear (not at all times, obviously). However, if you opt for Gildan G540B, it will give you one less thing to worry about. Because it is specifically made to resist wear and tear.
The Gildan G540B is a heavyweight, 100% pure cotton shirt. At times, when the temperature starts dropping, this shirt will help keep your child warm. As it consists of a material, pre-shrunk cotton, which plays a key role in keeping a person warm. Not only is it a thick material. But also, extremely soft to the touch. The shirt comes in various colors and can undergo screen printing. Not to mention, you can pair this shirt with anything and style it for different occasions, as well.
Features Of The Gildan G540B
The heavyweight cotton shirt will keep your child warm in fall and spring. At times, when the cold isn't harsh but it is indeed chilly. For layering purposes, you can pair this shirt with a jacket, cardigan, overalls, etc. Or it can also act as an under-layer, to protect your kid from the cold weather. Regardless, one can wear this shirt whenever and however they want.
The Gildan G540B has:
Double-needle stitching throughout
Taped shoulder-to-shoulder
100% Preshrunk Cotton
The color ash grey is 99% cotton and 1% polyester
The color sport grey is 90% cotton and 10% polyester
Seamless rib at neck
Ribbed cuffs
This soft cotton apparel is perfect for casual and formal wear. Additionally, you can print your kid's favorite cartoon on this t-shirt without any hassle. Although, it will look equally good if worn blank. Moreover, the shirt comes in various colors.
Everything You Need To Know About Gildan
Initially started as a Canadian enterprise and spread its market in the USA with top-tier quality apparel. Gildan is a vertically integrated manufacturing company. Popular in the market for its finest material products, which never fail to impress. They never let their customers down and produce high-quality products. Solely, because of their dedication, they were able to transform into one of the largest, most trusted, apparel manufacturers today.
Responsibility In The Eyes Of Gildan
From the very start, they have been re-imagining and building the future together as a responsible apparel manufacturer. As a vertically integrated company, Gildan grows its raw materials itself. The cotton is sustainably grown and the factories run on renewable energy. The production process is also given close attention like the product itself.
Their production process includes; sourcing the cotton, spinning the yarn, knitting, dyeing, cutting the fabric accordingly, and sewing them. They have been seeking ways to protect and save the environment, its customers, and its workers ever since the company came into being. Overall, they make clothing pieces with respect to both resources, human and natural. This is what makes the brand stand out in the clothing industry.
Easy Ways To Style The Gildan G540B
The Gildan G540B has a dynamic color palette, therefore, it can be styled in any way you like. For formal or casual events, this shirt will suit any occasion.
As mentioned above, you can wear this shirt individually over bleached, blue, black, or khaki jeans. But remember that details matter. Even the teeny tiniest detail has the ability to elevate your whole look. Your child can wear this attire to a family get-together, a school event, or a friend's birthday party. Get your spooky side on, by getting these shirts screen-print for Halloween. This shirt will look super cute under denim overalls. In this attire, you can take your child to the park or even apple picking in the fall.
Overview
The material of Gildan G540B is 100% pre-shrunk cotton. This shirt comes in various unique colors for you to choose from. The long sleeves have ribbed cuffs which is the trend nowadays. It goes well with all lowers and works as an under-layer too. Moreover, screen printing will show outstanding results because of the excellent fabric of the shirt. The heavyweight cotton will keep your kid warm, an happy, and healthy. Veetrends.com